松井機業
/ Matsui silk weaving co.,ltd.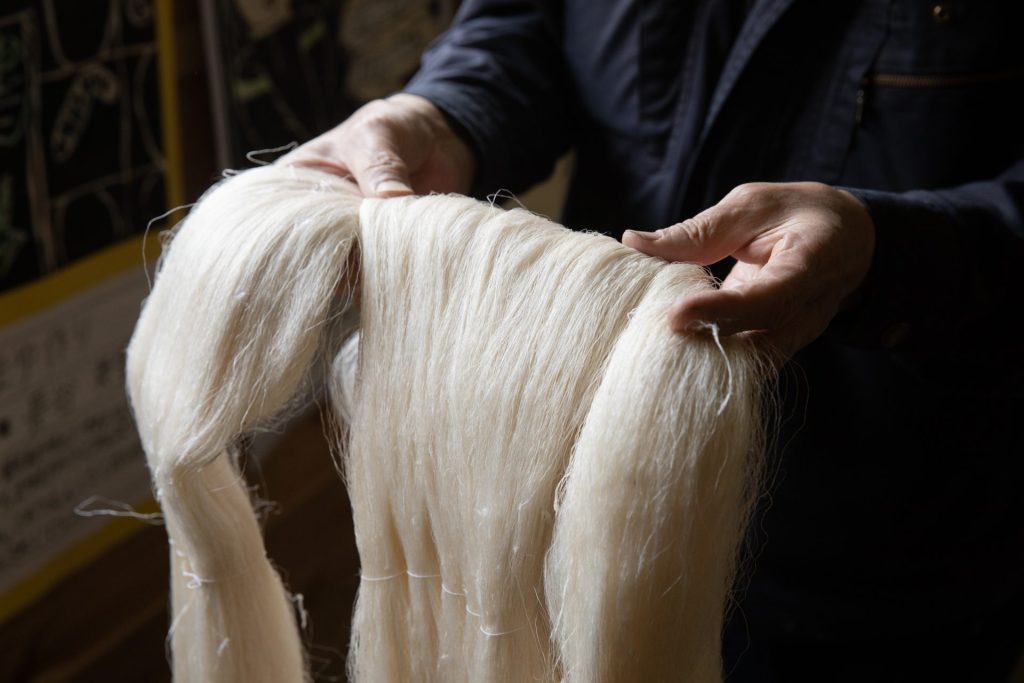 Matsui Silk Weaving Co.,Ltd.
The walls and ceiling of the " Room of Silk" are richly decorated with a rare silk fabric called "shike-ginu". The cocoon was made irregularly by two silkworms and the thread have a unique taste, not smooth though. The softly reflecting light makes you feel as if you are in a cocoon.In the past, half of the population of Johana region, Nanto City, was engaged in the silk weaving industry, but now Matsui Silk Weaving is the last one left.They are also working on new product development to keep the history, culture, and techniques alive.
Matsui Silk Weaving Co.,Ltd.
Since its establishment in 1877, they have been consistently producing and selling silk fabrics in the area of Johata, Nanto City. Especially outstanding is the production of "shike-ginu(silk)," which is made of a precious thread called "tama-ito(knotty thread). Shike-ginu is made by the cocoon which was made irregularly by two silkworms. Because of its rarity, it is also called "miracle thread. Shike-ginu-shi, which is made of "shike-ginu" silk fabric backed with Japanese washi paper, is used to produce fusuma, wallpaper and other interior products, and fabrics for kimono.The history of silk weaving in Johata is said to date back to the end of the Warring States Period at the end of the 16th century. In the past, it was produced using raw silk from Gokayama, located on the border of Gifu Prefecture, and the former Tonami County (now Fukumitsu, Nanto City). In the Edo period, silk weaving was such a major industry that more than half of the people living in Johata were said to be involved in it. But now Matsui Silk Weaving is the last one left. To preserve the local silk weaving tradition for the future, the mulberry trees that feed the silkworms are cultivated from the very beginning of soil cultivation. We are also focusing on new initiatives such as raising silkworms in the factory's silkworm farm.