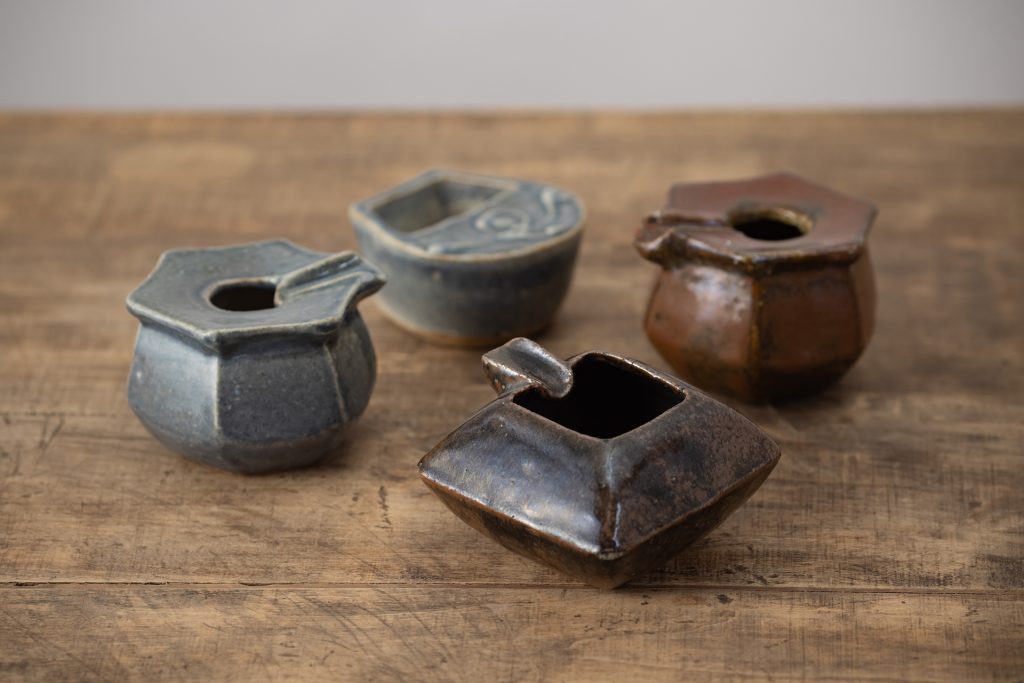 Kanjiro KAWAI
Potter Kanjiro Kawai was one of the founders of the Mingei movement. It is characterized by its powerful shapes and patterns, which can be described as somewhat primitive. Rakudoan exhibits and sells Kawai's works, which were in the collection of Keiichi Yasukawa, a Toyama architect who was considered one of the ten greatest disciples of Muneyoshi Yanagi.
Kanjiro KAWAI (1890-1966)Ceramic artist
Born in Yasugi City, Shimane Prefecture He decided to pursue pottery while in junior high school and entered Tokyo Higher Polytechnic School, he was close friends with Shoji Hamada, who was two years below him in class. In 1920 he built his own kiln in Kyoto "the Shokeiyo" and began to give exhibitions with elegant works using old oriental ceramics techniques. But he was ultimately dissatisfied with this early work and, thanks in large part to a chance encounter with Yanagi Soetsu and Hamada Shoji his work has been greatly changed. In 1925, with Yanagi, Hamada, and others, he participated in drafting the "Prospectus for the Establishment of the Japan Folk Crafts Museum(Nihon Mingei Museum)," and later led many craftsmen as a promoter of the folk craft movement.
The Kawai Collection of the Japan Folk Art Museum consists of approx. 250 pieces mainly from the 1930s to 1950s, all of which were keen selected by the eye of Yanagi Muneyoshi. The plates, tea bowls, and bowls have the simple, heavy shapes of Kawai's specialty mold-making, with colorful glazes that decorate them, and unique patterns that are full of dynamism. I would say that the characteristics of Kawai's works that we colected are in line with their practical use. His former residence in Kyoto is open to the public as the Kawai Kanjiro Kinenkan (Kawai Kanjiro Memorial Museum).