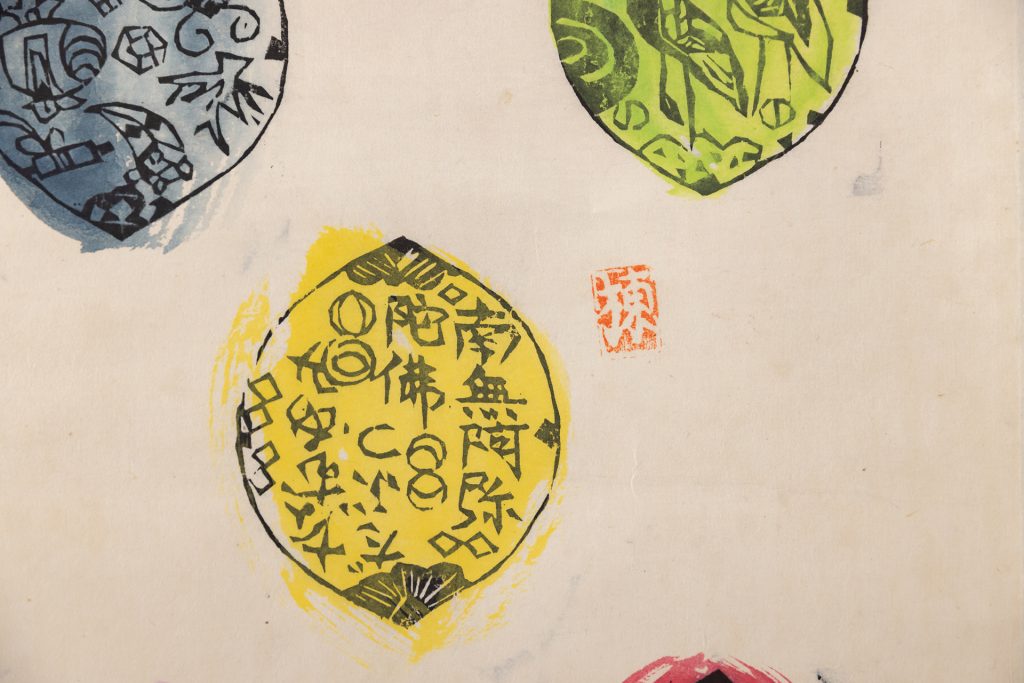 Shiko MUNAKATA
Evacuated to Nanto City, Toyama Prefecture (then Fukumitsu Town, Nishi Tonami County), where Shiko Munakata spent 6 years and 8 months during and after the war, which led to the gathering of Muneyoshi Yanagi and other folk art coterie members in this area.The exposure to the local culture and spiritual climate of Toyama greatly transformed Munakata's work.-Until now, I had only been running around in the world I had come to on my own, but my feet naturally turned to the world of other forces, and only in "the Shinshu Oukoku"(area with many Shinshu believers), Toyama was I held by such a great Buddha's will. (omitted)In Toyama, I received a great gift. It was "Namuamidabutsu(Hail Amitabha Buddha).  (Shiko Munakata, "Bangokudo")At Rakudoan, Munakata's prints and prints of Kawai Kanjiro's poems are displayed and sold.
Shiko MUNAKATA (1903-1975)
woodblock printmaker Born in Aomori City, Aomori Prefecture Munakata admired Van Gogh and aspired to become an "oil painter". In 1925, he moved to Tokyo with the aim of being selected for the Imperial Exhibition, but was unsuccessful three years in a row. In 1928, he was finally selected for the first time, but at the same time he also began making prints, and when he was awarded the National Painting Society Scholarship Prize in 1932, he decided to pursue a career as a woodblock printmaker.Yanagi Sōetsu and Hamada Shoji saw Munakata's prints at the Kokugakai's annual spring exhibition, and the prints of "Yamato shi Uruwashi" by Munakata were purchased by the Japan Folk Art Museum, which was scheduled to open in six months. This was the beginning of his friendship with the leaders of the Mingei movement, including Kawai Kanjiro, and he produced a series of signature works. In 1940, "Ten Great Disciples of the Buddha " was exhibited at the National Exhibition and won the Saburi Prize. From 1945 to 1951, he lived in Fukumitsu, present-day Nanto City, Toyama Prefecture, where he mingled with many religious and cultural figures, learning much and deepening his spirituality. Munakata was awarded the "Prize of Excellence" at the Second International Print Exhibition in Lugano, Switzerland, in 1952, and first prize at the São Paulo Bienal Exhibition in Brazil in 1955, followed by Grand Prix at the Venice Biennale in 1956He was awarded the Order of Culture, the highest honor in the arts, by the Japanese government in 1970. After his death, the Munakata Shiko Memorial Museum of Art opened in Aomori City in 1975 and the Munakata Shiko Memorial Museum in Kamakura City in 1982 (closed in 2011).