Enjoy an Aerial Walk with Paragliding: Viewing Dispersed Settlement from a Bird's Perspective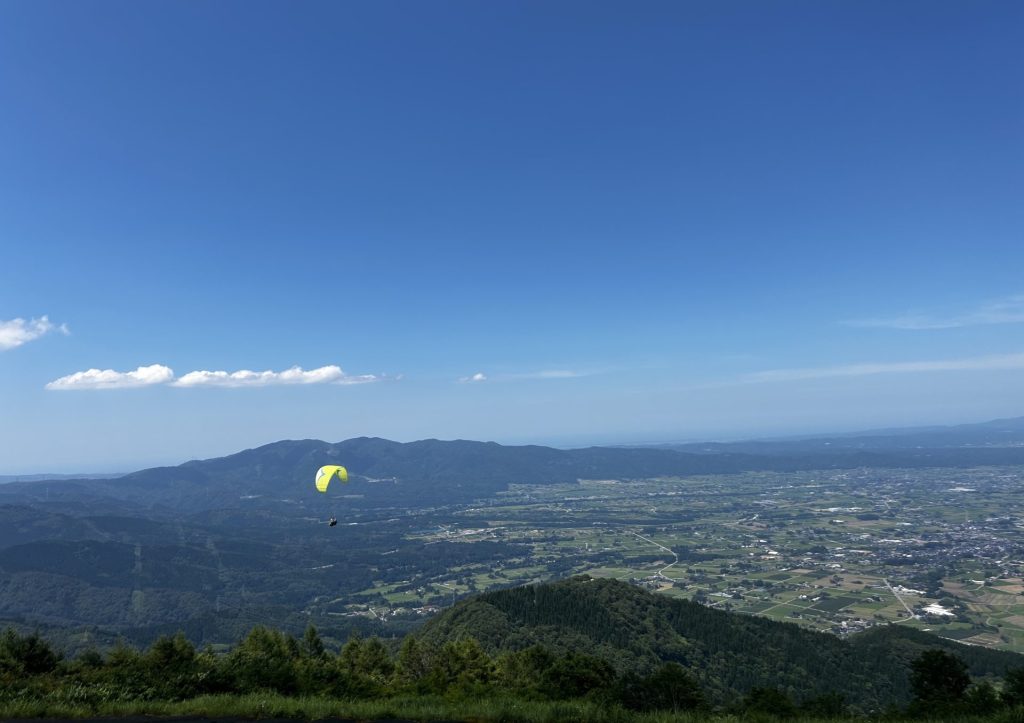 From the Tsukubane Mountain at an elevation of 1,000 meters, you can take a paragliding flight over a 400-meter altitude difference to the Harayama Pasture. Enjoy breathtaking views of dispersed settlement across the Tonami Plain below, the mysterious 'Nawa Pond' with its perpetually flowing water, the sacred 'Iozen' Mountains in the forefront, and even a distant gaze towards Toyama Bay.
Seated in a tandem paraglider, piloted by an experienced aviator, even beginners and people of various age groups can enjoy the flight with a sense of security. The view and the wind you feel are entirely different from the ground or the sky. This flying experience, harmonizing with the wind from a bird's viewpoint, provides a sense of wonder and a chance to discover a new world.
Particularly captivating is the landscape of the "dispersed settlement," stretching out before your eyes and under your feet. You can truly feel the beautiful collaboration between Toyama's nature and its inhabitants, shaped over more than 500 years.
Number of participants
1 to 6
Required Time
1.5 to 2 hours
Date and Time
Saturdays, Sundays, national holidays (from GW to around Nov. 20) *Variable depending on weather conditions
Participation fee (incl. tax)
10,000 Yen per person (Including accident insurance expenses)
Application deadline
3 days prior
Venue
Ogaya 125, Nanto City, Toyama Pref. (about 20 min. from Rakudo-An by car)
Cancellation policy
In the case of customer-initiated cancellations, cancellation fees will be incurred. 50% of the tour fee for cancellations made the day before, 100% of the tour fee for same-day cancellations.
*Paragliding is a weather-dependent sport (leisure activity). Flight schedules might require waiting due to weather conditions, and flights might be cancelled on occasion. We will confirm the feasibility approximately 3 days in advance.
*Age is not a limitation, but participants should be at least 130 cm tall.
*Dress Code: Please wear comfortable attire (long-sleeved shirts and pants) and suitable shoes (no high heels).
*What to Bring: As the activity might take some time when done in groups, consider bringing snacks and ample beverages.
*We can also arrange transportation such as taxis or chartered buses, as well as guides in Japanese, English, or Chinese.