'Okado Somen Noodle' making experience and local cuisine lunch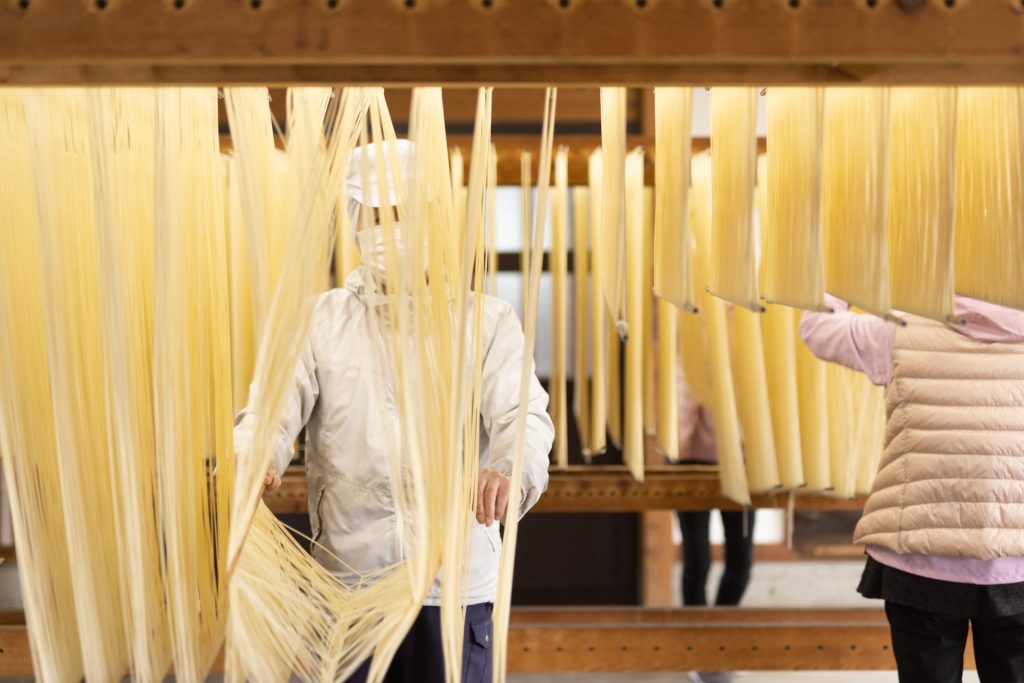 'Okado Somen noodle' is produced in the Okado area in Dispersed Settlement. Due to the small number of these noodles available on the general market, they are also known as 'phantom Somen'.
Okado Somen noodle, which has been produced since the Edo period, is made in the cold from early winter to late spring during the farming off-season, which is the most suitable time of year for Somen production. Kneaded in the clear water of the Shogawa River and exposed to the winter cold and the cold winds blowing down from the mountains, these hand-pulled Somen are made by the nature of Toyama and the handiwork of people. The noodles are characterised by their firmness and smoothness. At its peak (early Showa period), Okado Somen noodle was made by more than 60 farmers, but today the number has dwindled to a few.
We visit the workshop of one of the producers to observe the hand-rolling process. Experience the process of rolling the Somen into the characteristic shape of Okado Somen noodle called 'Marumage'(hairstyle of Japanese women in Edo period), and take home the Somen you rolled yourself. This 'Marumage' process is actually very difficult… Somen is normally dried completely, but the Somen you take home is semi-raw. Enjoy the special texture that only those who have experienced the process can eat.
You will be guided on a walk through the Dispersed Settlement to the workshop. This half-day programme also includes a local lunch at the farmhouse restaurant 'Okado', a renovated old 'Azumadachi'.
Number of participants
2 – 6
Duration
3 Hours
Participation fee (incl. tax)
7,700 Yen per person incl. lunch/one pack of Somen noodles/guide
Open period
From November to March
Application deadline
5 days before 
*However, this may not be possible due to the producer's availability. Please confirm at the time of booking.