'Etchu Isami Taiko Drumming' Visit and Experience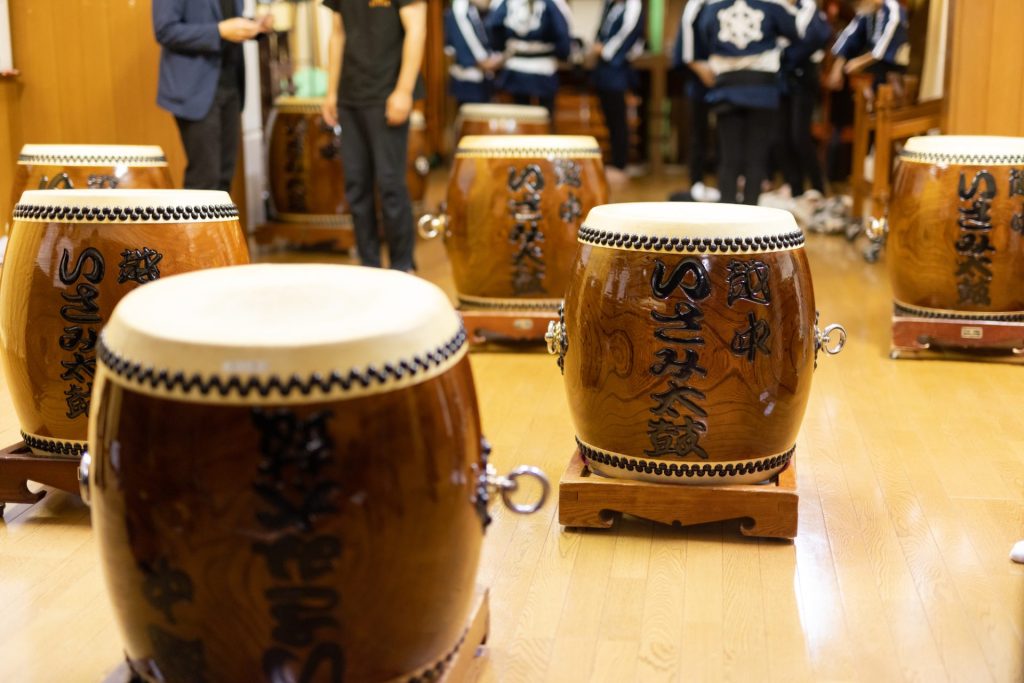 The 'Nomura-jima' where Rakudo-An is located is home to a traditional Japanese drum performance called 'Etchu Isami Taiko'.
The name 'Jima' (means island) refers to a small, elevated area of land in this area that was frequently flooded by the Shogawa River and was spared from the flooding, and it was from such places that settlements began. Nomura-jima is one such place with a long history. The Etchu Isami Taiko originated from a ritual performed some 900 years ago at the Kuwano Shrine in Nomura-jima, which has the same history as the village's origins.
Volunteers from the local community revived this historic taiko performance in 1952, and in 1954 they formed the first preservation society in the prefecture, with everyone from children to elderly people still practicing three to four days a week at the Kuwano Shrine, the birthplace of the art. This hands-on programme allows participants to observe their practice and learn how to play it from the locals, and try it out together. It shall be a pleasant experience to touch the heart of Tonami Plain's community.
Number of participants
1 – 6
Duration
1 hour(The venue, Kuwano Shrine, is a 3-minute walk from Rakudo-An)
Participation fee (incl. tax)
3,300 Yen per person
Application deadline
one day before 
*However, only on regular practice days (Wednesday, Thursday and Friday) and other practice days. Please confirm at the time of booking.